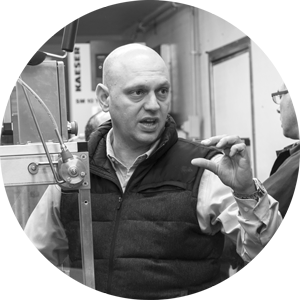 Dr. Matteo Meglioli is in charge of operations at Viniserve, a specialized company that provides services to the finest wineries throughout the North-East of North America.  Specialized services include: mobile bottling, mobile disgorging, mobile cross flow filtration and reverse osmosis.
Additionally, Dr. Meglioli is the enologist in charge of analytical supervision at MostiLab, our complete laboratory specialized in wine, cider and beer analysis.
Dr. Meglioli holds a Bachelor's Degree in  Science, Ph.D. in Food Technology from the University of Parma and a Bachelor's degree in Enology and Viticulture from the University of Bologna, Italy. He is a member in good standing with the Ordre des Chimistes du Québec.
He has co-authored numerous research papers with the enology department of the University of Bologna and AgriCanada, lectures frequently on a plethora of winemaking topics, and is actively involved with the publishing company Eno-One as a technical editor for enological books.
His educational background and experience make it possible for Viniserve to meet all provincial, federal, and international winemaking (i.e. OIV) and chemistry standards.